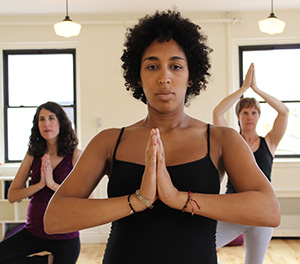 View the full schedule of mindful yoga, yoga nidra, pregnancy yoga, and mom & baby yoga – as well as class descriptions and location information.

• complete class calendar

• class registration & fees

• yoga styles & class descriptions

• class location

• about the teacher




Early Autumn: September 10 - October 22, 2018
Late Autumn: November 5 - December 13, 2018

The following calendar lists classes at the NDG/Westmount studio located near the Vendome metro (in purple) as well as classes at the West Island studio in Pointe-Claire Village (in green). Please visit the registration page for complete information concerning class fees and how to register, either online or by phone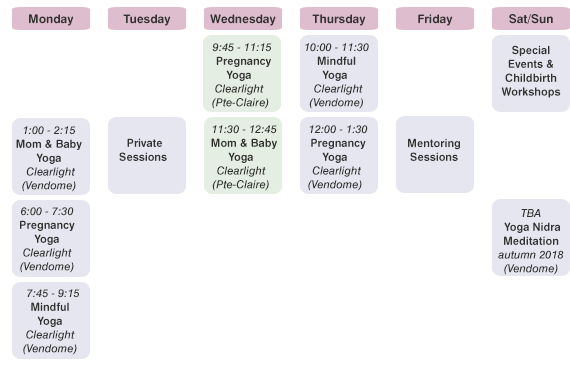 Please visit the registration page for complete information concerning class fees and to register, either online or by phone.





All of the classes at Yogaspace have limited enrollment to ensure personal attention. Weekly classes have an average of 15 people.

mindful yoga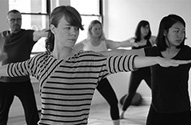 Clearlight's Mindful Yoga classes offer a mindful approach to asanas (postures), practical core-strengthening work, balancing breathing exercises, and relaxation with meditation, all to cultivate the many benefits of yoga - including strength, flexibility, calm and overall well-being.

These day and evening classes are a synthesis of Kripalu Hatha Yoga, Pilates-Inspired Bodywork, along with Nondual Wisdom teachings as embodied by BodySensing and Yoga Nidra meditation.

[visit our mindful yoga page to learn more...]

pregnancy yoga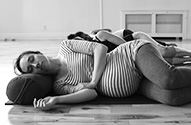 Pregnancy yoga provides a safe and supportive context for pregnant women to come together – sharing in a practice designed to promote optimal health and wellness for both mom and growing baby.

These yoga classes are specifically designed to support a more comfortable and healthy pregnancy, and to prepare for labour with special practices of movement, breathing and meditative techniques.
[visit our pregnancy yoga page to learn more...]

couples workshop: preparing for childbirth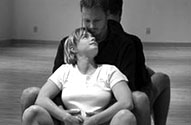 This one-time weekend class provides guidance and support to expectant parents who are preparing for labour and a positive childbirth. (Includes booklet for home practice.)

Couples will learn and practice together:
• breathing techniques for labour and delivery
• birthing positions to facilitate labour and childbirth
• specific ways partners can best support moms in labour and childbirth
[visit our couples workshop page to learn more...]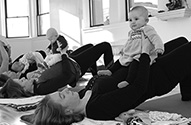 mom & baby yoga
Mom and baby yoga provides an opportunity to regain strength and flexibility, to bond with your baby in an enjoyable activity and to connect with other moms in an informal and lively setting. Open to babies 2 months to 8 months or crawling.
[visit our mom & baby yoga page to learn more...]

yoga nidra relaxation & meditation
Participants are guided into the deepest levels of relaxation and meditation while remaining alert and aware. Practiced to deeply relax and eliminate stress; to promote healing and to rediscover a greater sense of wholeness and balance that is naturally ours. Everyone can practice yoga nidra.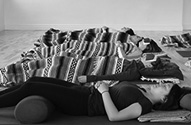 [visit our yoga nidra page to learn more...]

private sessions
These personalized sessions are designed to meet individual needs. Sessions are offered in therapeutic yoga, iRest Yoga Nidra meditation and in private childbirth preparation.
[visit our yoga nidra page to learn more...]






As of May 1st, 2018, Yogaspace classes will be held at its new studio location inside of the Queen Elizabeth Health Complex in NDG/Westmount, 2100 ave Marlowe, near metro Vendome. Pregnancy yoga and childbirth classes, Yoga with Baby, Mindful Yoga and Yoga Nidra classes - all with Clearlight - are offered here.

In the meantime, the March-April 2018 classes will be held at Shri, 4846 Sherbrooke Street West (2nd floor) at the corner of Victoria Avenue in Westmount (Montréal).

Beginning in May 2018, Yogaspace is happy to expand the schedule to offer Yoga for Pregnancy and Childbirth on the West Island at Om West, 46 Avenue Ste Anne in Pointe-Claire, taught by Clearlight as well. See the registration page for dates!

Please visit the contact page for more information.






Clearlight Gerald, MA, C-IAYT, E-RYT500, RPYT, founder and director of Yogaspace Studio, is a professional level certified Kripalu and Prenatal Yoga Teacher and an IAYT-certified Yoga Therapist. Clearlight currently teaches classes and workshops at Yogaspace in Mindful Yoga, iRest Yoga Nidra, Pregnancy Yoga, Childbirth Preparation for Couples and Mom & Baby Yoga.

Clearlight started practicing yoga in 1991, and began teaching in 1999 after she completed her certification as a Kripalu Yoga Teacher and Pregnancy Yoga Teacher. Today, Clearlight is a student of nondual wisdom teachings as taught by her teachers and mentors Richard Miller and Joan Ruvinsky. Clearlight actively pursues her love of yoga in her studies, personal practice, teaching and family life.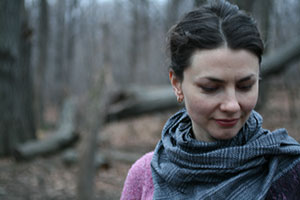 During her first years of teaching, Clearlight studied and practiced with many wonderful teachers from around the world, including Donna Farhi, Gary Kraftsow, Anodea Judith, and Krishna Das. It was at this time she gained extensive experience and insight into the practice and application of yogic breathing and asana, physical and energetic anatomy, and the ancient teachings of yoga.

During these formative years she taught at different locations throughout Montreal, including Concordia University, Marianopolis College and the Montreal Athletic Association, and worked part-time as a program assistant at the Kripalu Center for Yoga and Health in Massachusetts. In 2002, Clearlight created Yogaspace Studio in Montreal, where she now teaches exclusively.

In 2004 Clearlight met Richard Miller and Joan Ruvinsky, senior teachers of the pathless path of nondual teachings, both students themselves of Jean Klein. During her first interactions with Richard and Joan she felt that she was "coming home to truth" - and in that moment knew she had found the teachings that she was deeply compelled to follow. Since then, Clearlight has been deeply immersed with Richard and Joan in studies that are dedicated to these teachings.

Clearlight completed the Yoga Nidra (iRest) Teacher Training with Richard Miller in 2009, and is now a mentor for others pursuing their certification as Yoga Nidra teachers at the Integrative Restoration Institute (IRI). (IRI is a non profit organization dedicated to the path of self-inquiry and awakening through the teachings of nondual wisdom.) The teaching of yoga nidra is a beautiful method of self-inquiry and meditation and informs every level of Clearlight's teaching.

Concurrently, Clearlight continues to deepen her focus and skill as a specialist in teaching prenatal yoga and postnatal yoga, a path she chose after feeling profoundly inspired, well before her teacher training, to bring yoga to pregnant and new mothers. As a result of following her heart, she has had the privilege of teaching several thousand expectant and new mothers in her pregnancy yoga, and in her mom and baby yoga classes.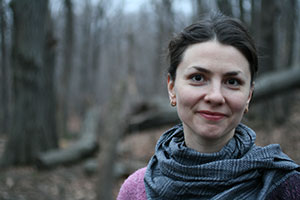 Clearlight brings lived wisdom to her teaching that she has gained both from her personal life as a mother of two daughters and her 16 years of professional experience. The prenatal and postnatal classes emphasize ways to bring yoga and nondual teachings to life, both practically and spiritually, into the role of being a parent.

She continues to offer an inspiring context in which women and couples can connect more deeply to the wisdom, balance, and joyfulness that they bring with them into childbirth and parenthood. (Make sure to read the wonderful birth stories by moms who were in Clearlight's classes.)

Clearlight's dynamic teaching style reflects the passion she has for her personal practice and her love of inquiry. Her teaching of the physical practice of postures balances both an emphasis on core stability techniques and safe alignment with the importance of not only liberating deeply held tensions, but of discovering how the practice of yoga can bring a greater sense of wholeness and balance to every aspect of one's life.

Other aspects of her teaching include yogic breathing, chanting, the sharing of inspiring music and poetry, discussion based on ancient texts and meditation practice (including yoga nidra) - all led with the understanding that yoga is a practice not of acquiring, but of recognizing the wholeness of our True Nature.

Finally, since the question does come up so frequently, it must be shared that Clearlight was named Clearlight at birth by her mom and dad, and that she feels a deep gratitude for this beautiful gift from her parents!